Farm equipment hauling and moving heavy machinery in general has become a fine art these days. As agricultural machinery becomes more comprehensive and state-of-the-art, it requires state-of-the-art technology to transport it. It's not just about delivering the goods, but about all the preparation that goes into the entire process.
The Department of Transportation (DOT), Federal Highway Administration (FHA), and the office of Federal Lands Highway (FLH) all regulate transportation across U.S. roads and highways. Farm equipment will often travel on roads outside of the national interstate network and require careful route planning and load preparation.
With decades of experience in the logistics industry, Heavy Haul and Oversized can provide you with the information and connections to successfully arrange your agricultural transport needs.
Farm Equipment Hauling For All Seasons
The ability to transport farm equipment plays a major role in the agricultural industry. Making sure that heavy equipment is delivered efficiently requires a significant amount of care from start to finish.
On a basic level, farm equipment transport guarantees the day-to-day running of any farming business by making sure machinery is in place and available when needed. One farm may use numerous methods and operate on a seasonal schedule. That means farmers need to be ready when the crops are, or when the weather is just right, and they go non-stop until the process is done.
If equipment breaks down, a speedy replacement ensures the farming operation doesn't suffer. While states with heavy agriculture tend to have relatively close facilities, there are times when materials are brought from further away.
Frequently transported agricultural equipment includes:
Tractors
Combine harvesters
Sprayers
Ag crawlers
Balers
Plows
Irrigation equipment
Gravity wagons
Harrows
Seeders
This equipment comes in all sizes. Tractors themselves vary greatly in size and can be paired with different attachments. Depending on the size of the farm, many may lease equipment based on seasonal needs, which makes reliable farm equipment haulers even more important.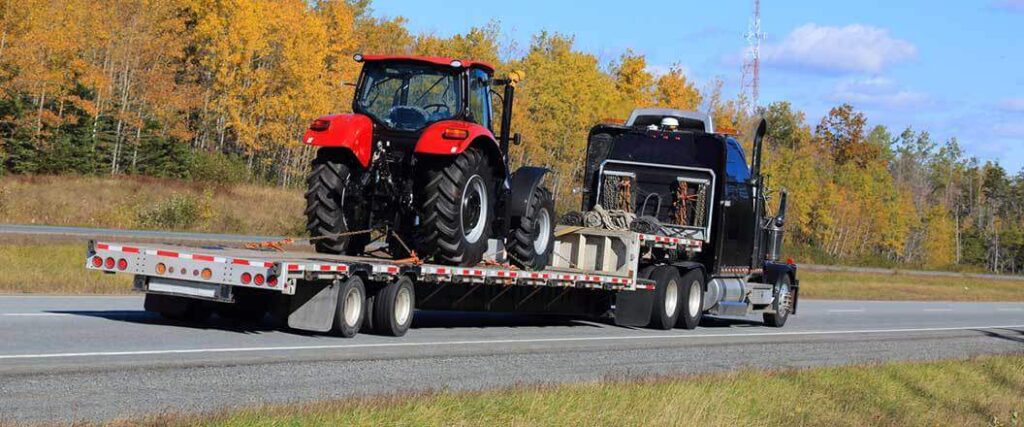 What Equipment is Needed For Agricultural Hauling?
Due to the size of many individual items or even attachments, transporting agricultural machinery safely means using sturdy equipment in the form of trailers and tie downs.
There are a wide variety of trailers out there, but agricultural hauling is often done with the following equipment:
Step Deck/Drop Deck Trailer: A 'drop' or 'step' just after the hitch point lowers the deck to transport bigger items of equipment. A legal step deck trailer length is 48', but can go up to 53'. The height is limited to 10' and the width is limited to 8.5' and can carry freight up to 48,000 lbs.
Double Drop Deck Trailer: This is similar to the Step Deck, but is used when the cargo is between 10 feet and 11.5 feet tall. These are graded to carry 45,000 lbs, so the load stays stable.
Removable Gooseneck Trailer (RGN): The most commonly used trailers for oversized loads that cannot be transported on regular roads or easily loaded without a ramp. An RGN trailer allows any drivable piece of equipment, like a tractor, to ride up easily and it can carry up to 150,000 pounds of equipment.
Flatbed Trailer: Another common way to transport equipment, a flatbed is used for awkwardly shaped loads and can be loaded from any angle. It makes it easier for oversized loads, but it does sit higher than others. Most can carry a load of up to 48,000 pounds, or more if additional axles are added.
Although the weight of the equipment might be within the range of what the trailer can carry, the state may still require a heavy haul permit based on width or height. You may also have to account for the weight of tie-down equipment. The heavier the load, the more tie-downs are required.
Equipment used to secure farm equipment to trailers includes:
Metal link chains
Tie-down straps
Chain binders
Turnbuckles
Although the DOT does allow tie-down straps for farm equipment, it still needs to meet the working load requirements. Specialty tractors and harvesters can easily weigh between 15,000 to 30,000 pounds.
Carriers specializing in flatbed transportation or heavy haul services are aware of how important securing a load is. All equipment is classified by a working load limit (WLL) that cannot be exceeded.
Working Load Limits of Common Tie Down Materials
| | |
| --- | --- |
| Tie Down Equipment | Working Load Limit (WLL) in Pounds |
| 2" Ratchet Strap | 1,000 – 2,000 lbs |
| 4" Winch Strap | 5,400 – 6,670 lbs |
| Grade 70 Chain | 4,700 – 11,300 lbs |
| Grade 80 Chain | 4,500 – 18,100 lbs |
| Grade 100 Chain | 8,800 – 22,600 lbs |
| Grade 120 Chain | 5,200 – 17,900 lbs |
Source: USCC
The equipment's range is based on things such as link thickness and hook attachments. With chain tie-downs especially, it's critical to track the additional weight. Some chain grades can weigh nearly three pounds per foot. There may also be differences between ranges based on manufacturer specifications.
The Federal Motor Carriers Safety Administration (FMCSA) sets weight limits on commercial shipments traveling on national highways. The max gross weight, which is the truck, trailer, and load combined, is 80,000 pounds.
After that, state heavy haul permits are needed. Limits on the other dimensions, such as width and height, vary slightly by state. When in doubt, consult with a heavy haul cargo specialist who can review state regulations and permitting procedures with you.
For more information on finding a specialist, consider our article, "Choosing a Heavy Haul Freight Broker: A Large Load Insider."
Tips for Shipping Farm Equipment
When it comes to transporting farm machinery, it isn't always so straightforward. It can be a difficult task, not to mention dangerous. The size of the equipment impacts the transport service options available.
The most common shipments are those of smaller tractors or attachments that get daily use and require routine service and maintenance. While there are some service shops or even dealerships that provide pickup and drop-off services, availability is often limited.
If the equipment is small enough, you have a couple of options for tractor transport:
Rent a flatbed trailer and/or truck
Use a local hotshot trucking service
Most small equipment doesn't require much in the way of heavy haul permits, so many farmers choose the first option. If you are a hotshot trucking service looking to expand, working within agricultural areas could bring a boost to your business.
Medium-sized farm equipment hauling poses a unique challenge as they're usually too large to fit on an average trailer but are too small to justify the commercial haul rate you're likely to pay. A local hotshot service is still an option here. When possible, you can pair the shipment with another item that would count as a partial load, which can help save the transport company on fuel and driver costs.
HEAVY HAUL & OVERSIZED
Expert Specialists Arrange Your Farm Equipment Hauling
Reach out to us at (855) 490-2433 or fill out our quick form and a live agent will be in touch shortly.
Reach Out Today

Although rare, there are some LTL flatbed carriers that haul farm equipment. If you are a farm equipment service or sales center looking to provide shipping services for your clients, contracting with a heavy haul 3PL will give you the opportunity to work with an expansive carrier network.
By contracting out your shipping needs, you are also getting access to things such as:
When dealing with large equipment, you don't have much choice but to use a commercial agricultural machinery transport service. Whether you're a farmer who owns the equipment, or a dealership specializing in big brands such as John Deere or Kubota, you want to get the details right.
Qualities to look for in a farm equipment hauler include:
Reliable pickup and delivery
Heavy haul loading experience
Drivers with heavy haul certification
History of DOT and FMCSA compliance
If the equipment is traveling across state lines or any significant distance, a carrier's experience with heavy haul permits is also good.
Farm Equipment Shipping Checklist
Before any machinery leaves the farm or even the dealership, a few simple steps are needed to make the process safer.
A pre-shipping checklist should include the following tasks:
Drain all the fluids from the machinery: During transportation, the equipment may move and shift for many reasons. From potholes to sudden turns, the diesel fuel and other fluids move around, creating dangerous pressures that may cause a road and environmental hazard in the event of an accident.
Secure the machinery: Not only is the equipment traveling at highway speeds, but it's also exposed to any and all elements during the drive. Secure down or remove pieces that may break off during transportation, such as covers and windscreens.
Remove excess components. Don't leave any personal belongings in cabs or storage areas. You may also need to remove equipment such as blades or spray hoses. Delicate instruments that need to be protected should be removed or appropriately covered.
Anything you can do to make the shipping process safer helps ensure both the well-being of your equipment and that of surrounding motorists.
Farm Equipment Shipping Rates
We can't discuss farm equipment shipping without touching on the cost. The average flatbed shipping rates come out to about $3 – $5 per mile. However, shipping quotes for heavy machinery are often going to include a few additional price points.
The most frequent expenses besides the shipping itself are:
State permit filing
Route planning
Escort vehicles
Completing a free quote form online can provide shippers with a base amount, but typically won't include the price of such expenses. Additionally, when the equipment is specifically meant for use on a farm, ranch, or other agricultural venture, several government exemptions may apply.
Exemptions for vehicles, machinery, and even drivers are possible in the following cases:
Covered Farm Vehicle (CFV): This status is determined by ownership and registered use. A CFV may be able to move without a permit when it's under a certain weight or only being transported a limited distance.
Farm Waiver or Restricted CDL: If a vehicle can be driven to its destination, this allows the owner or regular operator to do so without having a standard heavy haul commercial driver's license.
Farm Custom Operations: Allows a farm owner or employee to transport machinery between farms for custom harvesting operations
There are further exemptions applicable to specific agricultural industries. To get the most accurate information on what exemptions you may qualify for, contact a heavy haul specialist that is familiar with agricultural machinery shipping and transport.
Farm Equipment Hauling with Heavy Haul and Oversized
Having your agricultural machinery delivered promptly makes a big difference in the farming industry. Many practices associated with farming are notoriously time-sensitive, from harvesting of crops to spraying pesticides. When one item of machinery breaks down, the whole farm can suffer, severely impacting the business.
Work with the heavy haul experts at Heavy Haul and Oversized for all your farm equipment hauling needs.
Our nationwide network of partner carriers have access to all the tools you need:
Flatbed Trailers
RGN Trailers
Heavy Haul CDL Drivers
1-on-1 Consultations
If you need it shipped, we have the means and the expertise to make it happen so your business doesn't have to slow down.
Call us today at (855) 490-2433 to speak with one of our representatives. For a risk-free quote, complete an online form now and get started on your next big move.