Heavy haul rates are charged when transporting large pieces of freight. As you can probably imagine, these types of freight shipments can be extremely expensive. Before you commission a carrier to handle such a shipment, you should be familiar with these rates, how they're calculated and the factors that influence them.
Heavy haul rates are often comparable with flatbed rates since flatbed trailers are most commonly used to move heavy haul shipments. That rate fluctuates across the U.S., ranging between $2.95 to $3.76 per mile. Factors like distance, fuel costs and the type of flatbed used cause these rates to fluctuate.
To prevent any surprises regarding heavy haul rates, we'll explain how these rates can fluctuate so you can know what to expect when you ship.
What Is Heavy Haul?
The term heavy haul is one of the many names used to describe oversize or over dimensional shipping. Essentially, heavy haul loads consist of freight that doesn't fit within normal dimensions. The weight of this type of freight is much heavier than common types of freight as well. Examples of some of the oversized freight that heavy haul shipments consist of include:
Boats
Construction equipment and vehicles
Aerospace Equipment
Generators
As you can imagine, requirements have to be met before such large pieces of freight can be moved.
Trailers Used For Heavy Haul Freight
Heavy haul shipments utilize a variety of flatbed trailers to move freight across land. Depending on the characteristics of the freight, some flatbed trailers are better suited at holding certain types of freight as opposed to others.
These are some of the flatbed trailers you'll see being used for a heavy haul shipment:
Standard flatbed
Removable gooseneck
Lowboy
Double drop deck
Step-deck
Our article on the various trailers for hauling heavy equipment will go in-depth into the details of these trailers and the benefits they provide.
HEAVY HAUL & OVERSIZED
Meet State Regulations With Expert Assistance
Reach out to us at (855) 490-2433 or fill out our quick form and a live agent will be in touch shortly.
Reach Out Today

Regulations
The regulations for transporting the over-dimensional freight that make up heavy haul shipments can be pretty confusing. While the U.S. Department of Transportation (DOT) has its unique regulations, every state has its own over-dimensional regulations.
Some states are similar to one another in their regulations and others have regulations unique to them. Because of these variations, you must be in compliance with the customs regulations of the state or states that your heavy haul load travels through.
Common regulations that most states enforce include:
Permits
Pilot/escort cars
Axle compliance
Safety Equipment
Running Times
Surveys
Our article on over-dimensional freight discusses these regulations in detail and explains what you need to do to abide by them.
What Are the Current Heavy Haul Rates?
There aren't heavy haul rates, per se. The reason for this is that the price of heavy haul shipments can vary based on numerous factors. However, heavy haul shipments are transported using a variety of flatbed trailers as we have already mentioned. Therefore, the closest thing there is too heavy haul rates are flatbed shipping rates.
We discussed flatbed shipping rates in our article previous article about the topic. Since then, rates for flatbed shipments have largely remained the same, fluctuating above or slightly below $3.00 per mile. To be more precise, rates can be anywhere between $2.60 and $3.13 as of June 28th, 2022. The table below shows the different regions in the U.S. and their varying flatbed rates.
| | |
| --- | --- |
| Region | Rates Per Mile |
| West | $2.95 |
| Midwest | $3.61 |
| Northeast | $3.36 |
| Southeast | $3.76 |
| Southwest | $3.45 |
Provided by DAT Freight Analytics
The rates provided by DAT are accurate estimates, but for a more precise rate, fill out your quote today so you can find out what you'll be paying for heavy haul shipment when you choose Heavy Haul and Oversized.
Other Heavy Haul Shipping Costs
Having an idea of what the rates are for a heavy haul shipment is important, but the rates are only a small part of what the overall cost will be. There are other factors come with heavy haul trucking that will affect the cost of a heavy haul shipment.
These factors include:
Distances shipment has to travel
The freight and features of the trailer carrying it
Permits
Surveys
Distance
The distance from the starting destination of your shipment to the delivery point is a contributing factor to the price of your heavy-haul shipment. The more miles the shipment racks up, the more times the shipping rate will be charged.
Fortunately, you can calculate an estimate of how much of an impact the distance will have on your heavy haul shipment. Simply multiply the rate given by a carrier and multiply it by the miles the freight will travel to get an idea.
HEAVY HAUL & OVERSIZED
Request A Risk-Free Quote
We help you find the best rates for your oversized shipments. Get a personalized quote from our industry experts.
Get My Quote

Freight and the Equipment Being Used
Heavy haul transportation service costs are affected both by the freight and the equipment used to transport it. All oversized freight is large and heavy, but these features could be more extreme amongst certain types of oversized freight compared to others.
As a result, specialized trailers have to be utilized to compensate for different types of loads. For example, lowboy trailers' main deck is extremely low to the ground. This prevents potential clearance issues that tall pieces of freight could pose for heavy haulers moving the freight.
Additionally, the heavier the oversized freight is, the more axles will have to be added to the trailer carrying it. Like with other oversized freight regulations, axle requirements can vary from state to state. The more axles needed on your trailer, the more money you're likely to spend.
Crane Services
Some types of heavy haul freight, such as construction equipment, can be driven onto the trailer if the trailer's features allow for it. Other types of heavy haul freight can simply be loaded onto a flatbed with a forklift. However, there are some occasions when a crane will have to be used to lift it on and off the trailer. If a crane is needed, then you will have to factor this service in.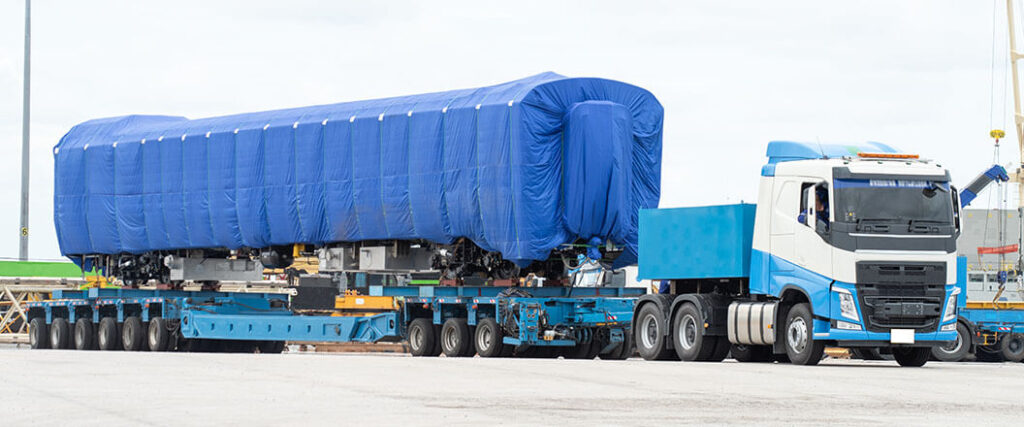 Permits
Paying for a permit(s) for the state or states your freight travels through will also need to be factored into your total costs. The price of permits can vary greatly between different states. Before applying for a permit, consider how often you ship heavy haul freight or how often you plan to in the future.
Some states provide a single trip permit and others provide both single trip and annual permits that will allow you to move multiple shipments through them. If you frequently ship this type of freight or plan to, then getting an annual permit might be more cost-effective.
Pilot/Escort Cars
Lastly, pilot car services are another cost that you may have to cover. Certain states don't require pilot cars at all, but some require heavy haul shipments to be accompanied by one or two. Rates for pilot cars can be anywhere from $1.65 to $2.00 per mile.
If you want to learn more about this service, consult our article on oversized load pilot cars for more details.
Utilize Heavy Haul and Oversized For All Your Heavy Haul Needs
Finding a heavy hauler to take care of your shipment can be a real pain. Rather than finding your own, hire Heavy Haul and Oversized to find your heavy hauler for you. We have strong connections with a network of carriers that can not only provide heavy haul shipping but other types of transportation services like:
Hazmat shipping
Expedited shipping
Standard truckload shipping
Refrigerated shipping
White glove shipping
Whatever service you need, we can find a carrier that can handle the job. Call us at (855) 490-2433 and quit pulling your hair out looking for a carrier. Request a quote from Heavy Haul and Oversized and let us help you today.