The U.S. steel industry is still thriving despite no longer being at its absolute zenith like in the middle of the 20th century. The ultra-durable, ultra-strong metal is always in demand and might lead you to this question: How is steel shipped?
Depending on what form the steel comes in and how large it is, answering how steel is shipped can have several answers. You need specialized cargo haulers capable of hauling heavy equipment and loads of heavy steel to get steel delivered to construction jobs on time. Finding a shipper like Heavy Haul and Oversized that has the capability to handle super loads and more is the key to your success. Knowing how to transport steel, how much it would cost to do so and what to do about oversized shipments are all important factors.
Continue reading to find out how Heavy Haul and Oversized, a reputable 3PL company in the transportation field, can help you realize your goals of shipping tons and tons of steel. With competitive pricing, a host of drivers and trucks to choose from, and a reputation as a leader in the transportation sector, there's no way to lose when partnering with Heavy Haul and Oversized.
The U.S. Steel Industry
Once the world leader in producing this strong metal, the U.S. steel industry is currently 4th in raw steel production in the world in 2019 based on total output in million tonnes (Mt). The world leader, by contrast, is China, who produced over 11 times more than America — 996 Mt to about 88 Mt — over the same year.
In America, the integrated steel mills are concentrated mostly in Pennsylvania, Ohio, Michigan and Indiana. The country also has mini-mills, also known as specialty mills. These are spread out across the United States and account for the majority of iron production.
The way an integrated mill and specialty mill uses material is different:
The specialty mill uses iron and steel scraps, which are left over or recycled, to melt down and make steel in electric furnaces.
An integrated mill uses iron ore, which is melted down in a blast furnace and has coke and flux agents added to it to remove impurities and reduce iron oxidation. While iron ore is primarily used, iron and many types of steel scraps can also be added.
How to Transport Steel Beams
If you are transporting long, large steel beams, your pickup truck just won't do. In fact, an enclosed 18-wheeler isn't the best way either.
For this particular job, specialized cargo haulers like a flatbed designed to handle items with substantial length and weight is the best transportation mode to use. The other thing you want to make absolutely certain of when using this mode of shipping is that the beams are securely fastened to the bed, or each other if stacked.
Despite their heft, they can slide or shift easily and no one wants a beam weighing hundreds of pounds to enter a busy highway. Also, as with most freight shipments, the load will ride best if it is centered on the flatbed and the weight is as equally distributed as possible. Each axle on any kind of vehicle has a weight limit and it should be heeded.
Heavy Haul and Oversized has vast experience in shipping steel and would love to partner with you to help your company move the metal to where it needs to go.
Shipping Steel to Construction Sites
Steel's role in all kinds of different construction — from buildings to automobiles — is well known. In fact, new construction accounts for over half of the steel used in the world. So the value of getting your steel where it can be best utilized cannot be overstated.
When transporting anything to a construction site, the top three rules are safety, safety...and safety. Construction sites are often places riddled with both seen and unseen dangers, and need to be treated as such.
There are a few rules your transportation company should follow when shipping your valuable steel to an active construction site:
The deliveries should not be made in a way that disrupts the ongoing activities at the site. If the site undergoing construction is occupied, deliveries will be made so as to not disturb the occupants any more than need be.
Moving vehicles pose a risk to the workers on a construction site. Partnering with a reputable transportation company should help mitigate this. Unloading the steel is of the utmost importance too, as falling loads can severely injure or kill workers.
Unloading on a flat, level ground is a good tip as well, since that will help prevent a heavy vehicle laden with additional weight from overturning.
If you go with Heavy Haul and Oversized for your steel-shipping requirements, you've picked a company that has delivered to numerous job sites over the years using specialized cargo haulers to handle your oversized loads. We know the regulations and laws as well as anyone, and can provide a safe experience for everyone involved. We even handle super loads and the permits needed to use multiple lanes of highway for super load transport needs. Most importantly, our expedited freight service ensures that your steel will arrive on time so there's no delay in your production.
How Much Does It Cost to Transport Steel?
While there is no standard price charged to transport steel or heavy equipment transport, it's pretty heavy and pretty big, so you can expect it to be on the pricier side of the spectrum. In fact, that's why prices to buy steel at the retail level probably will not be decreasing any time soon. Although this article is over a decade old, it highlights the why and how of steel transportation costs.
It is hard to nail down an exact price on how much one ton of steel will cost to ship because it is up to prevailing market conditions at a given moment. It also could depend on the size and shape of the steel being shipped and if the steel will be smelted before or after the shipping process.
It takes a shipping company a great amount of time and resources to move freight, which will be yet another factor impacting the price you're quoted. Heavy Haul and Oversized charges fair prices for stellar work in the transportation field. So each time you have Heavy Haul and Oversized ship a load of steel for you, you can rest assured that you are getting the most bang for your buck.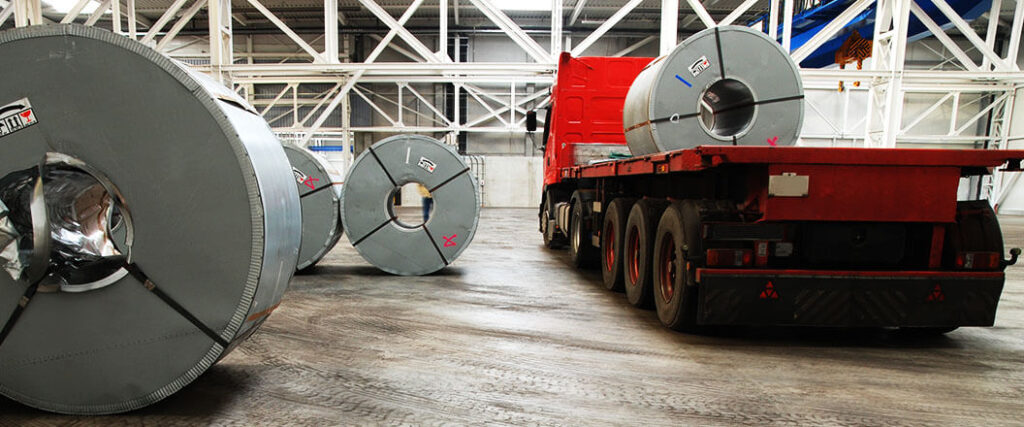 Shipping Steel Coils
In addition to moving steel beams and other products made from this heavy metal, shipping steel coils is also essential to building, manufacturing, and construction. In fact, steel coils require special care when handling, as their size and weight make them difficult to maneuver.
Additionally, shipping steel coils means that rules and regulations must be followed. Steel coils require a flatbed carrier to do the heavy lifting. Steel coils can range in size from as small as 5,000 lbs to as large as 60,000 lbs, so special precautions must be taken.
The Federal Motor Carrier Safety Administration (FMCSA) regulates the transport of steel coils. Some state departments of transportation have further regulations. The regulations are related to weight and handling when shipping steel coils.
Steel coils must be properly restrained during the shipping process. There are two kinds of tie-downs your carrier might use: direct and indirect. A direct tie-down involves securing the coils to the flatbed with chains; indirect involves using resistance to keep the coils in place during transport. Both methods are safe, secure, and FMCSA approved.
Overweight Shipments of Steel
Overweight or oversized shipments of steel are not really different than any other load that would fall into this category. Trucks themselves and each of their axles have weight limits that must be adhered to. It is a safety issue so tires, axles or other aspects of the vehicle are not compromised under the strain of too much weight.
You also have to figure out if an oversized or overweight load is worth it from the time aspect. What is meant by that is many states have laws in place that a load or vehicle bigger than a standard 18-wheeler is restricted to being driven 30 minutes before sunrise to 30 minutes after sunset. The transportation company will also be responsible for getting special permits and using red flags and amber lights on their vehicle.
While this shouldn't come into play very often, if your load is more than 12 feet wide, the United States Department of Transportation (DOT) will require the truck to be accompanied by escort vehicles that will make it easier on the truck driver — and other drivers — on the road.
If you're worried about the strictness of shipping an abnormal load, just look at California's shipping restrictions on moving heavy freight. They are among the most regulated in the nation and are a good baseline for what to expect as far as many laws are concerned.
With a highly qualified network of carriers as our partners, Heavy Haul and Oversized can easily plan your freight's transportation through multiple states and expertly navigate the laws and roads of the United states.
Shipping Steel with Heavy Haul and Oversized
Once you're confident with how steel is shipped, start the process by calling up Heavy Haul and Oversized to get your heavy metal oversized shipments hauled anywhere it needs to go. The professionals at Heavy Haul and Oversized are well-equipped to handle all of your transportation of heavy equipment needs that might arise.
First of all, Heavy Haul and Oversized has established partnerships with heavy haul trucking companies that are experienced in dealing with large steel shipments and can do the job both quickly and well. The quick part speaks directly to our 99.5 percent on-time delivery rate, meaning your freight will get there on-time or earlier with regularity.
Included with our regular shipping rates are real-time freight visibility along the steel's journey and also customer service available to deal with any questions or concerns that come up along the process. Additional services, which include expedited shipping, are also available should they be needed.
So when you're ready to have your steel shipped, get in touch with the experts at Heavy Haul and Oversized for a free price quote for our services. Get a freight quote today and call us at (855) 490-2433 today to find out about the Heavy Haul and Oversized difference.