Project cargo is the most difficult type of freight to ship. Freight that falls into this category is extremely large and requires a specialized process to transport it. Fortunately, there are a few things that can be done that will take the stress out of shipping project cargo.
Project cargo is a term that describes extremely large pieces of freight. These types of freight are much larger than oversized loads you might see going down the road. Shipping cargo like this requires an extensive amount of pre-planning, as well as heavy lift equipment to load the goods onto a truck for transport.
Project cargo might seem like a challenging type of freight to transport but it can be done. In this article, we will discuss this type of cargo and go into detail about the steps you should take when transporting it
What Is Project Cargo?
Project cargo is a broadly used term in the logistics industry. It is used to describe extremely large pieces of equipment that are transported nationally or internationally.
The transportation of such large pieces of equipment has numerous challenges. For one, numerous safety procedures have to be followed. Large pieces of equipment that aren't handled properly could cause injury to workers and damage to the vehicles delivering them.
Shipping large cargo can be very time-consuming as well. Like all international shipments, project cargo is shipped using different methods of transportation. Loading and unloading such large cargo takes time in itself.
Many industries are reliant on project logistics to transport the large equipment that they need to perform their functions. The table below shows a number of industries that require project cargo
Examples Of Project Cargo By Industry
| | |
| --- | --- |
| Industry | Type of Project Cargo |
| Renewable Energy | Wind Turbines |
| Aerospace | Rockets |
| Engineering | Mining Equipment |
| Military | Tanks |
The project cargo that these industries require are so massive that they can't be shipped like normal types of freight. Project cargo requires specialized planning and focus for it to be shipped successfully.
Other common types of project cargo include:
Boats
Pre-built homes
Storage tanks
Transformers
Helicopter blades
In terms of equipment, project cargo is transported on the bed of a modular trailer. These trailers tend to be longer and wider than a typical flatbed trailer. Another great feature of the modular trailer is its hydraulic system. This keeps the trailer balanced, and by extension, the cargo that is traveling on it. In some cases, standard flatbed trailers can be used to move project cargo as well.
If you need a rate for your freight load, then fill out your Heavy Haul and Oversized quote now.
Types Of Project Cargo
Within project cargo are three different subcategories. Goods that fall into either of these subcategories have to be shipped differently because of their unique characteristics.
Overweight and Oversized Cargo
Overweight and oversized cargo is by far the most common. When handling this subcategory of project cargo you will need equipment that is suited to handle the weight and size of your freight during the loading, unloading and shipping processes.
Sensitive Goods
What makes sensitive goods different from other types of project freight is their delicate features that have to be accounted for when they're transported. For example, sensitive goods might need to be temperature controlled or ventilation measures have to be taken. In other instances, sensitive goods might need special weight distribution to keep the cargo shifting when it's transported.
HEAVY HAUL & OVERSIZED
Request A Risk-Free Quote
Our logistics experts find you the fastest and most cost-effective route for your project cargo. Get a fast, personalized quote from our industry experts.
Get My Quote

Breakbulk
Project cargo that falls into the breakbulk subcategory consists of freight that is shipped in portions rather than all at once. The reason for this is that some project cargo is simply too large to ship all at once.
To compensate, an extremely large piece of cargo can be broken down into smaller pieces. The smaller pieces can then be transported using multiple shipments.
At Heavy Haul and Oversized we can also help you find a carrier to transport your freight.
How Is Project Cargo Transported?
Project cargo shipments travel internationally and nationally which means they have to be transported by sea, land, and sometimes by air. The large pieces of equipment that project cargo is transported on include an array of different vehicles that use these three modes of travel.
In the case of land travel, project cargo shipments are transported using a variety of different trailers. The trailers that can carry project cargo shipments are:
Self-Propelled Modular Transporter (SPMT)
Hydraulic Modular Trailer
Extendable/Telescopic Trailer
Removable Gooseneck
Lowboy Trailers
Lowboy trailers are one of our specialties at Heavy Haul and Oversized.
1. Budget and Customs Compliance Preparations
Transporting project cargo is an extremely difficult task to undertake because of all of the different factors that have to be considered to transport it.
That is why extensive planning must be undertaken to ship such large pieces of equipment over great distances. Start planning your shipment by working out the budget for your project cargo shipment.
Budgeting: Transporting project cargo is extremely expensive compared to other shipping services. Everything from loading, unloading, transporting and fuel costs will impact your budget.
Another factor that will impact your expenses is customs duties and taxes. Fees like these fluctuate depending on the country you ship your project cargo to and from.
Customs Compliance: After determining your budget, you will have to worry about customs compliance. While duty and tax concerns will be taken care of during the budgeting process, you will still need to consider the documentation and licenses that might be needed to ship to or from another country.
The customs compliance process for project cargo is much more complex than regular forms of freight. Because of the complexity of the customs compliance process, you should expect this part of the process to take a little longer. Therefore, set deadlines that you can meet for your shipment.
Additionally, Customs and Border Protection (CBP) has guidelines that will help you when you have to import or export freight from another country.
2. Utilize A Project Cargo Expert
The preparation process can be pretty overwhelming which is why you will need some help. To start, you can utilize the services of a project cargo expert.
Project cargo experts are immensely useful in the budgeting and customs compliance parts of the planning process. They keep track of current customs regulations so you can get a better feel for how much your duties will be. You can also find out what documentation you will need to bring project cargo into the country or send it to another country.
Like with any type of freight shipping, the route you use is immensely important. Certain routes could be hazardous or have obstructions that a shipment of project cargo won't be able to travel through. Anything from roads with extreme curvature to overhead clearances can have an impact on which route you ultimately choose to use for shipping your project cargo.
Fortunately, project cargo experts will help with this part of the planning process as well. Using the size of your freight as a starting point, they can find a route for it to travel along that won't pose a threat to the shipment.
HEAVY HAUL & OVERSIZED
Our Expert Consultants Prioritize Communication
Reach out to us at (855) 490-2433 or fill out our quick form and a live agent will be in touch shortly.
Reach Out Today

3. Finding A Reliable Transportation Partner
Once you've put your transportation plan together, you will need to choose a transportation partner or reliable 3PL to move your shipment. There are a few things that you should look for when you search for a transportation partner.
The first thing that you should seek out is a partner that prioritizes communication. Shipping project cargo is a complex task that costs a good amount of money. If anything goes wrong during the shipping process, you need to have the assurance that your transportation provider will let you know.
Likewise, if you ever have any questions, you need to know your transportation provider will answer them quickly. A good partner will be responsive to your needs and keep you up to date about the progress of your shipment.
Transportation partners should also have experience. Since moving project cargo is so difficult, the last thing you would want is to use a partner that doesn't have experience completing an important task like this. Doing so could be detrimental to your shipment.
A strong engineering team is another feature to look for in a reliable transportation partner. Although project cargo tends to consist of large pieces of equipment, the dimensions can vary from shipment to shipment. The engineering team can look at the specifications of the freight and find the best vehicles and trailers to transport your cargo.
Lastly, a good transportation partner should be able to take on some of the financial risk and liability when they take on responsibility for freight. As a shipper, you should not have to be held accountable if your partner makes a mistake that causes damage to your freight during the shipping process.
4. Contingency Plan
Many things can go wrong during a project cargo shipment. Just because some unforeseen circumstances put a dent into your initial plan doesn't mean all hope is lost. Once you've chosen a reliable transportation partner, you can work out a contingency plan that will allow you to continue the shipment in case something goes wrong.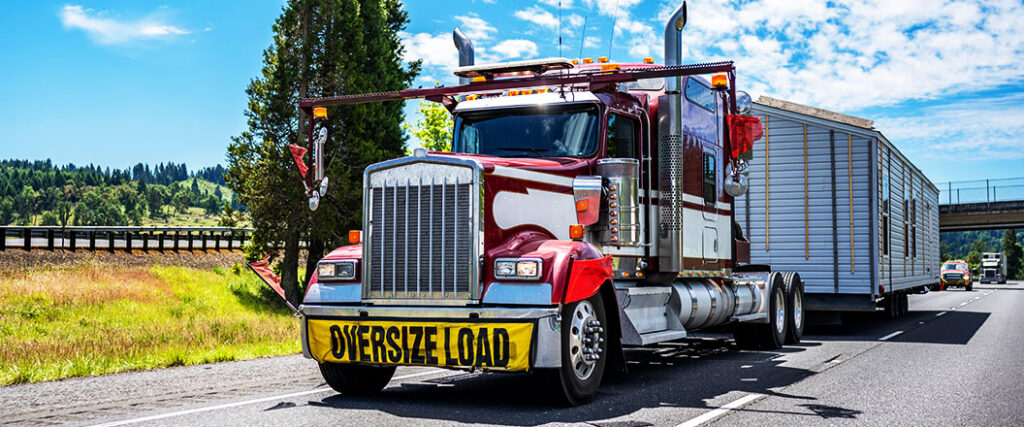 5. Execution
Once you have a primary and secondary transportation plan, you can now start the process of shipping your project cargo. During the shipping process, there are a few things that you can do to make sure that everything runs smoothly.
Four different factors that you should keep a close watch on are.
Weather
Vehicle Malfunctions
Road Conditions
Quality Control
Weather: The Department of Transportation (DOT) notes the different ways the weather can impact road conditions. Rain and snow in particular can impact the shipping process. Roads can become slippery, making transportation by land dangerous. Additionally, storms can keep ships docked and planes grounded.
Vehicle Malfunctions: Vehicle malfunctions are always a possibility when freight is shipped. When you transport project cargo, it's always good to have a maintenance team and a standby vehicle ready as part of your contingency plan.
The maintenance team should be your first line of defense in case the transport vehicle malfunctions. If your transport vehicle can't be fixed then your standby vehicle can pick up the slack.
Traffic Conditions: Checking traffic conditions for your chosen route is essential. Knowing what type of traffic to expect will help you make adjustments during the project cargo's journey.
Quality Control: When project cargo is shipped, it's possible that the restraints holding your shipment could come loose. Having a quality control team is useful because they can help identify this and correct problems like these during the shipping process.
Project Cargo Transportation with Heavy Haul and Oversized
If you need a carrier to ship your freight, look no further than Heavy Haul and Oversized. We have a strong relationship with an array of carriers that can transport just about any type of freight that you need to be moved.
The carriers we have partnerships with can transport anything from refrigerated freight to hazmat materials. In addition to our great selection of carriers, we also have an experienced team of logistics experts. These experts will find you the fastest and most cost-effective route you could use.
Let us handle your project cargo and logistics needs by giving us a call at (855) 490-2433 and one of our experienced and friendly specialists will help get you on the road today!