Cable drum transport is an essential service used to move electrical cables through the supply chain. These large, bulky items require special handling to prevent damage to both the cable and the drum or reel. Working with a strategic partner can help you get your product on the road with the right equipment.
Cable drums are typically transported using a flatbed trailer and loaded by either a forklift or crane. Once loaded, chains or cargo belts are used to secure the cable drum, and wooden cleats are placed in between drum flange edges to provide additional support. Careful handling must be used to prevent damage to the wound cable.
We'll go through the essential elements of cable drum transport so you'll know exactly what to do.
What Is A Cable Drum?
A cable drum is a round object shaped like a spool that electrical and fiber optic cables are wound around for transport. Cable drums are used to move and store all kinds of wire products as well as fiber optic cables and electrical cables.
Drums can be made of:
Wood
Plywood
Steel
Plastic
Plywood cable drums are normally made of poplar wood. These are light and cannot handle heavy loads. Instead, they're most often used by commercial electricians and those in the building industry, since they can handle lighter loads and are a cheaper option than other cable drums. The same goes for plastic cable drums.
In the wire and cable industry, steel drums are used rather than traditional wooden drums. They are more solid and have much more durability than wooden reels. They also have a longer life and are therefore less expensive in the long run. Steel drums are preferred by people in the cable industry instead of wood or plastic because they cannot be easily stolen. They can also carry any type of cable or wire, whether light or very heavy.
Additionally, cable drums can come in nearly 20 different sizes.
Cable Drum Sizes
| | |
| --- | --- |
| Drum Size D-No | Diameter In Millimeter (MM) |
| D-6 | 600 |
| D-7 | 700 |
| D-8 | 800 |
| D-9 | 900 |
| D-10 | 1000 |
| D-11 | 1100 |
| D-12 | 1200 |
| D-14 | 1400 |
| D-16 | 1600 |
| D-18 | 1800 |
| D-19 | 1900 |
| D-20 | 2000 |
| D-21 | 2100 |
| D-22 | 2200 |
| D-23 | 2340 |
| D-24 | 2400 |
| D-25-S | 2540 |
| D-25 | 2540 |
| D-26 | 2600 |
Provided by Gulf Cables
How Are Cable Drums Transported?
Cable drum transport is typically performed using flatbed and lowboy trailers.
During transport, the drums are properly supported with a through shaft and spreader bar to prevent damage to the drum and cable when lifted by a crane. During loading, the drum is lifted with a forklift. Afterward, the cable drums are strapped adequately to avoid rolling and to make sure it is secured to the vehicle.
Drums are secured with chains or cargo belts to prevent movement during transport. Loading is done with the first drum leaning towards the front edge and from the front. Attention is also given to the axle weight restrictions. Drums are tied from the center with at least three belts.
Flanges are kept straight against one another when drums are in-line to prevent flanges from harming the cable itself. Finally, wooden cleats are placed between drums for better security.
Look into our article on bulldozer transport if you need to get this piece of equipment to a construction site.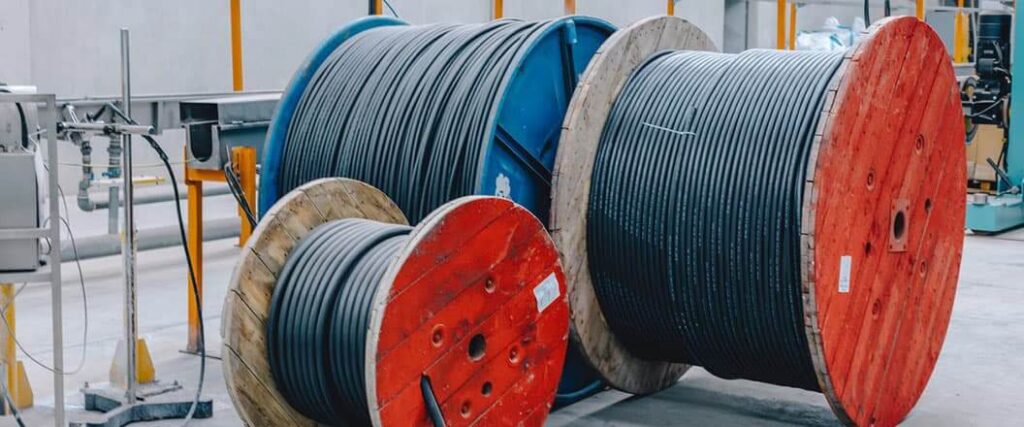 Tips For Handling and Shipping Cable Drums
Cable drums are heavy and difficult to handle without the use of heavy equipment. Therefore, they should be treated with care and every danger should be accounted for.
Wooden cable drums are not meant to be rolled over significant distances, and plywood drums should not be rolled on the ground.
When rolling drums, you should consider the following first:
The drum's mass
How visible is the direction in which the drum is being rolled?
Is the ground smooth, hard, and flat?
The direction of the cable on the drum
The drum's condition
Special care should be taken with full cable drums.
Appropriate lifting equipment rated for the load they are to carry should be used when lifting drums.
HEAVY HAUL & OVERSIZED
Request A Risk-Free Quote
Get your cable drums on the road with the right equipment and on schedule! Get a fast, personalized quote from our industry experts.
Get My Quote

Cable drums can be stored outdoors, but the ground will need to be clean and even. Damage to wound cable should be avoided at all costs.
The possibility of cables rolling away should be prevented. Drum flanges of cables that are close to each other should never be allowed to touch any items that are wound. During storage or transportation, cable drums should always stand on the neighboring flanges. The cable drums must not be pushed along the ground, standing on the flanges, as doing that may weaken them.
Don't roll cable drums carelessly in any direction. The arrow printed on the drum flange shows the direction to roll it so that the wound goods won't loosen around the drum.
Uncoiling the cable should be done at the tangent and never over the flange. The resulting torsion will damage the cable and make laying it impossible.
Cables that do not have paper as insulation should have cable ends that cannot be penetrated and are pressure-tight. Carelessly insulating cables can lead to the formation of moisture. This causes a drastic deterioration in the electrical transmission rate, resulting in power failures. Compressed air sealing stoppers and cable end caps can help make cable ends impenetrable.
Check out our heavy haul shipping regulations to discover what you need to do when shipping an oversize load.
Transporting Cable Drums With Heavy Haul and Oversized
Heavy Haul & Oversized is the partner you need when transporting cable drums. We can find you an oversize freight carrier to transport your cable drums to the final destination. Our carriers can also move a vast array of other oversize freight using different heavy-haul shipping services.
These shipping services include
Removable gooseneck trailer (RGN)
Flatbed shipping
Lowboy trailer
Double drop deck trailers
Transport your cable drums and other oversize freight with us by filling out your quote or by contacting our team at (855) 490-2433.