Excavator shipping is a heavy job and you need a strong transportation partner to get it done right. There are many unique challenges that come with moving a piece of machinery that can weigh in excess of 45 tons. From sourcing the equipment needed to obtaining the right permits for the road, getting the details right takes time and effort.
The Federal Motor Carrier Safety Administration (FMSCA), an agency with the U.S. Department of Transportation (DOT), has established cargo securement rules that apply to all interstate commerce. Excavator transport, heavy haul or not, should follow these rules closely since they are mostly shipped on open flatbed carriers.
Our expert team has the experience and knowledge needed to safely ship all kinds of construction equipment, from large hydraulic excavators to popular mini excavators. From supplier to job site, we've got you covered.
Excavator Shipping Rules You Should Know About
Large and small excavators are some of the most popular and required tools on almost any job site. Demand for excavator transport is rising due to increases in infrastructure spending by federal and state governments.
Excavators are used for digging large holes, demolishing existing structures, and shifting heavy objects. They come in a wide range of sizes, which is one of the reasons they're in high demand on construction sites.
There are mini excavators that weigh less than 6 tons (12,000 pounds) that can be moved with a decent-sized pickup truck. The standard excavators in greatest demand weigh between 19 to 24 tons and need an operator that has a Commercial Driver's License (CDL) for heavy equipment and can apply for an oversized or heavy haul permit at the time of transport.
If you're shopping around for excavator shipping services, keep the various size ranges and excavator categories in mind.
Excavator Type Categories by Weight
| | | |
| --- | --- | --- |
| Size Category | Weight Range (US Tons) | Weight Range (Pounds) |
| Mini | < 6 tons | < 12,000 lbs |
| Midi | 6 - 10 tons | 12,001 - 20,000 lbs |
| Standard | 10 - 45 tons | 20,001 - 90,000 lbs |
| Large | >45 | 90,001+ lbs |
Source: EquipmentShare
When you need to move such a large and expensive piece of machinery, it's best to work with heavy haul specialists who are familiar with such loads. There are legal guidelines to consider when securing such cargo even if heavy haul permits are not needed.
What are Cargo Securement Rules?
Whether cargo is traveling inside a dry van or on a flatbed trailer, it needs to be secured in a way that keeps it from moving around. For cargo traveling on flatbed trailers, it's especially important since there really isn't anything acting as a barrier between loose cargo and anyone else on the road.
Cargo securement rules are published by the FMCSA and apply to all commercial vehicles transporting interstate commerce.
These rules are meant to improve safety standards regulating the following areas:
Tiedown uses
Anchor point ratings
Front-end structure security
Working load limits
Commodity-specific loads
Heavy vehicles, equipment and machinery are one of the commodity-specific categories with cargo securement rules. These rules apply to any excavator weighing 10,000 pounds or more. Keep in mind, that limit would include some mini excavators.
The cargo securement rules apply legally to interstate cargo shipping. However, they are usually seen as best practices that apply to shipments that stay within state systems too. Each state can also enforce its own DOT regulations regarding securement.
If you aren't sure whether an excavator transport needs to follow these rules, it's best to speak with a heavy haul agent or broker directly.
Transporting An Excavator Across State Lines
What do you do if you need to ship an excavator to a job site in another state? Each state's permit process is unique, so you need a heavy haul carrier familiar with the differences.
The number of permits you need is determined by the number of states you need to travel through. Most heavy haul carriers work to meet the requirements of the state with the strictest enforcement. This prevents major changes or upgrades in security measures from slowing down the trip partway through.
Our article, "Heavy Haul Shipping Regulations: How to Move Breaking Goods", provides more information on this topic.
State regulations surrounding excavator hauling mostly deal with the following:
Load signage
Escort vehicles
Height limits
Acceptable travel routes
This information is especially critical if you plan on shipping your excavator in or out of metropolitan areas where width and height limitations are increased.
HEAVY HAUL & OVERSIZED
Request A Risk-Free Quote
Our expert specialists provide you with a fast quote based on how far and how often you need to ship your equipment!
Get My Quote

There are several different types of excavators outside of the size categories mentioned earlier. These different types serve slightly different functions or are necessary because of the terrain and environment.
The different types include:
Crawler excavators
Wheeled excavators
Dragline excavators
Vacuum/Suction excavators
Skid steer excavators
Long-reach excavators
Each of these is slightly different and may have different trailering needs. If you plan on shipping additional attachments with the excavator, it's important that the trailer used is capable of fitting both.
Even with a strong logistics partner on your side, you'll need to be sure to provide specific information about your excavator shipment before it can get on the road.
Required Information for Excavator Shipping
The first step in excavator shipping is compiling the information you'll need to get a freight quote. It's important to be honest and accurate when providing the details to avoid possible penalties later. Accurate information is also important for accurate price quotes.
Make sure you have the following information about the excavator you need to ship:
Manufacturer and model
All dimensions, including length, height, and width
Gross weight
Power status (ability to move on its own)
Additional attachments
By providing this information, a heavy haul specialist is able to determine what type of excavator trailer is needed. They will also be able to provide you with a quote based on how far and how often you need to ship the equipment.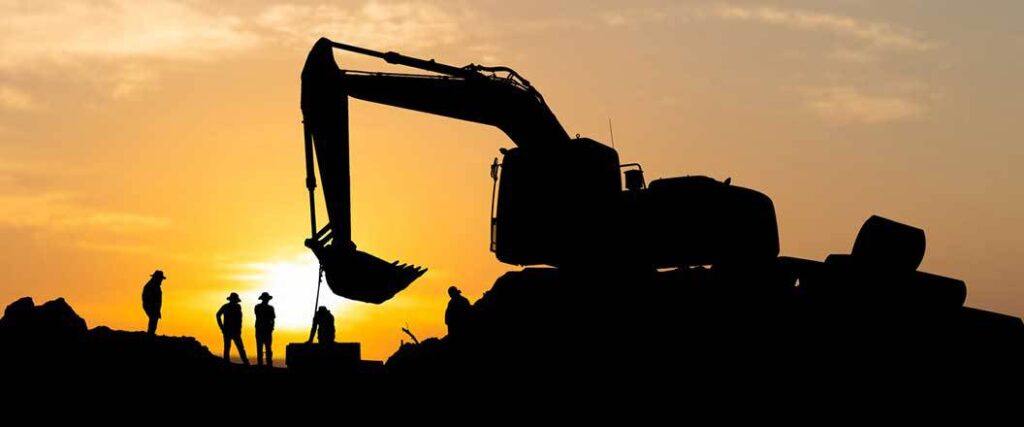 Obtaining State Heavy Haul Permits
The majority of excavators are heavy, oversize loads. If you're arranging to ship on your own, you are responsible for pulling the correct permits and meeting the state safety requirements. Each state has different heavy haul rules and you'll need a permit for each state line you cross.
Permit costs can vary, for example, you might expect to pay upwards of $150 in California or as low as $25 in Iowa. The amount you'll spend on permits varies on your route. Your total cost per permit is the state's permit fee plus any service fees attached.
Even within heavy haul permits, there are limits. If you need to ship multiple excavators or special-made giant excavators such as ones used in mining, the carrier may need to apply for a customized quote.
A standard heavy haul permit should not exceed the following dimensions:
80 feet long
12 feet wide
14 feet, 6 inches high
If you exceed such dimensions, special arrangements are needed and a professional transport company must be used.
There are three ways to obtain a permit:
Order exact permits directly from the state DOT
Work with a permitting service
Apply online through the state's DOT software system
A permit isn't just for the excavator's measurement, but for the combined dimensions of the machine and the trailer it's loaded on.
If you aren't sure of the exact dimensions of the trailer, you could easily supply the DOT with the wrong information. Should the load fail to pass inspection at a stop, you could get hit with hundreds of dollars in fines.
Permit offices may request all of the following measurements:
Bumper to bumper or end of load if there is overhang (trailer and vehicle combined)
Trailer length
Trailer length plus any overhang
Length of overhang if applicable
Kingpin to rear axel measurement
Depending on the weight, the state may require you to use a trailer with additional axles. You'll also need to plan out the route. Heavy haul loads can't just go down any street, road, or highway. Routes must be carefully planned to protect existing infrastructure.
Excavator transport services need to be aware of every bridge, tunnel, or narrow road that may require drivers to take an alternate route. Height is a big concern, but for shipments like excavators, weight is also considerable. Any bridges on the route need to be able to handle the load weight.
Of course, if you are arranging your shipping through a heavy haul carrier, it can easily handle the permit process. At Heavy Haul and Oversized, our heavy haul specialists will ensure your excavator shipment has all the needed permits and is properly secured for the journey.
HEAVY HAUL & OVERSIZED
Expert Consultants Ensure You Have All Necessary Permits
Reach out to us at (855) 490-2433 or fill out our quick form and a live agent will be in touch shortly.
Reach Out Today

What Kind of Trailer Do You Need to Load an Excavator?
An excavator won't fit on a 10-car hauler and most won't fit in an enclosed carrier. Getting the right trailer for the job is vital.
A flatbed trailer is the most common method used for shipping excavators significant distances. These trailers don't have enclosed sides or a roof and can be loaded from different angles if necessary.
Some trailers have a built-in ramp that allows for easy loading and unloading. If the destination is one where additional resources like ramps or cranes aren't available, it's the best option.
There are different types of flatbed carriers and the best option for your shipment will depend on the height and weight of the excavator. A trailer that is lower to the ground or capable of being fitted with additional axles in preferable.
Load weight per axle is a matter of federal law and has the following limits:
Single axle: 20,000 lbs
Tandem axles: 34,000 lbs
Tridem axles: 42,000 lbs
The gross weight of the load, truck, and trailer combined still shouldn't exceed 80,000. However, there are exceptions depending on the state, route, and even licensing of the individual driver.
Flatbed trailers with adjustable axles used to transport excavators include:
Lowboy Trailer: The deck of a lowboy trailer is designed to ride just above the ground between the fenders.
Step Deck Trailer: A two-level deck, with one slightly lower than the other. Good for excavators that don't sit too high
Double Drop Trailer: The deck is close to the ground, like a lowboy, but there is still a second deck that sits higher up
Removable Gooseneck Trailer: This trailer configuration allows for easy loading and unloading and provides a low deck to help with height limits
Excavators are secured to trailers with chains and boomers. The number of tie-downs is dependent on the cargo securement rules mentioned earlier. This will help keep the equipment secure during shipping, protecting both the machine and the driver during transport.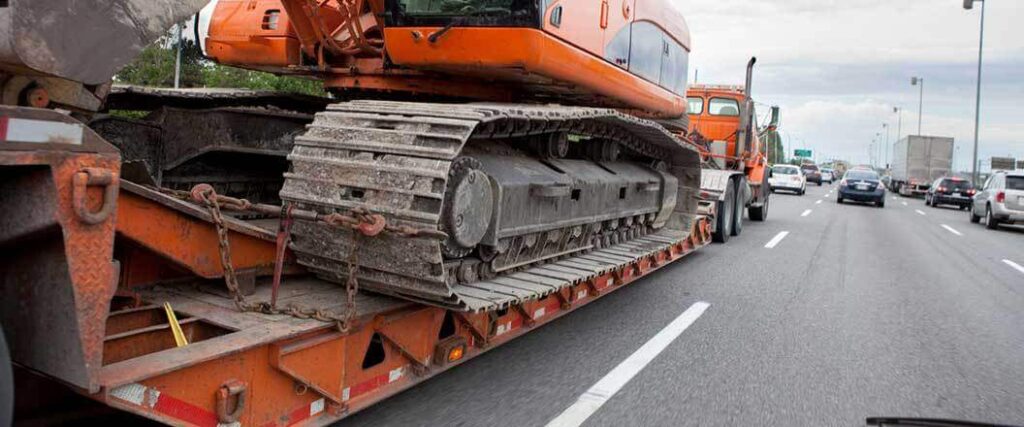 How Much Does Excavator Shipping Cost?
Moving heavy equipment like excavators requires special equipment and significant pre-planning. Between the needed permits and equipment, you can expect excavator shipping costs to be higher than average.
The cost per mile for standard flatbed services is anywhere from $2.44 to $3.04. For heavy machinery shipping, such as excavators, add an additional dollar per mile.
Whether you are on the high or low end of that range depends on what region you are shipping out of. According to the TCI Business Capital freight trends report, the least expensive rates are in the west and go up in price as you move east.
The rate is increased for heavy machinery quotes due to the various factors mentioned.
Specialized equipment needs
Driver training certification needs
State permitting requirements
Escort vehicles as needed
The final costs of shipping an excavator need to factor in such possibilities. Your final rate may be higher or lower than the estimates provided here because there are so many detailed combinations to consider.
By working with a reputable heavy haul carrier, you can minimize certain cost differences and still be certain you are getting top-notch service.
Trust Heavy Haul and Oversized With Your Machine Transport Needs
No matter whether you're moving equipment to a job site across the state, across the country, or even to Canada or Mexico, we can provide solutions. Heavy Haul and Oversized, powered by R+L Global Logistics, has the right tools and training for all your excavator shipping needs.
Our partner carriers offer multiple types of heavy haul trailer services.
Flatbed Shipping
Lowboy Trailers
Heavy Goods Solutions
Call us today at (855) 490-2433 to speak with a heavy haul specialist. Get a risk-free quote today by filling out this online form. Your next heavy construction shipment is just a click away.