Transporting tiny home is more convenient than moving other types of structures. Thanks to the compact design, these houses give homeowners the ability to pick up and leave as they wish. While the structures are very appealing for this reason, there are many regulations that have to be followed. Shippers will also need to secure their house safely for transport.
The American Association of Heavy Haul Transport says that transporting a tiny home can cost as much as $150 to $5,000. Shippers can prepare for the move by getting the right permits and finding a carrier. Afterward, they will need to secure items inside their house prior to loading and check the weather forecasts beforehand.
With the right knowledge and tools, transporting tiny homes can be a very smooth process.
What's the Average Cost for Transporting Tiny Homes?
While homeowners can expect to pay anywhere between $150 to $5,000 to move their small property, $3,500 is the average cost to ship a tiny house. Different shipping factors can cause expenses to fluctuate.
This can include:
Distance
Route
Dimensions and weight of the load
Carrier rates
Homeowners can either tow their tiny house with a heavy duty pickup truck or use flatbed transport. Both of these services have slightly different costs per mile. Towing rates are usually between $1 to $2 a mile to transport a tiny house, while flatbed shipping is between $2.50 and $3.50.
Since most oversized loads travel on a flatbed, our article on flatbed shipping rates will help you calculate the cost to transport this kind of freight.
Factors That Affect Tiny Home Transport Costs
There are four primary variables that can influence tiny house transport costs.
This includes:
Size and weight
Distance and destination
Specific permits
Type of truck or trailer
Tiny house shipping expenses are highly dependent on the size of the home. Larger dimensions and heavier weights will result in higher expenses. Where a tiny home is being sent and the distance that has to be traveled is another important factor. Generally, the more miles, the higher the cost. In addition to fuel costs, longer distances can inflict wear and tear on vehicles and equipment.
Although tiny homes take up less space than other structures, the dimensions are often considered oversized. Therefore, heavy haul shipping regulations will require a permit for the load.
When transporting tiny homes, there are a variety of trailers and vehicles that can be used. Pickups and standard flatbeds are good for shipping the smallest of houses. However, larger varieties will need a semi and longer trailer variants. Bigger equipment will inflict higher costs on shippers. 
Tiny houses are another small structure that often requires oversized transport services. Our article on transporting tiny homes will give you more information.
What Are the Dimensions of A Tiny Home?
Despite being small, tiny homes have various designs and sizes. That said, dimensions for these structures are usually around 8.5 feet wide, 14 feet tall, and 28 feet in length. Every state defines oversized freight differently, but there are a few measurements that are standard across the country.
This includes the following dimensional limits:
8.5 in width
13.5 to 14.5 feet in height
Based on these measurements, an average tiny home will likely qualify as an oversized load in most states. Therefore, shippers will need to obtain a permit from the Department of Transportation (DOT) of each state their freight will travel through. Fees for these documents will vary based on the local DOT guidelines and the specifics of a tiny home.
In some cases, oversized load pilot cars will need to accompany a tiny home shipment. These vehicles will warn other drivers on the road to make way and be cautious of heavy haul loads.
How To Prepare A Tiny Home for Transport
Transporting a tiny house might seem like a simple endeavor, but there is a great deal of preparation that's involved. Shippers will have to do their due diligence to ensure their home can be legally transferred and moved safely. This is true, even if the tiny home was designed to be moved regularly.
Get the Right Permit
If a tiny house owner determines their home qualifies as an oversized load, they'll have to obtain a permit. Shippers can do this by calling or emailing each state's DOT to request the document.
Depending on the state, homeowners might be able to access an online portal where they can fill out and submit their permit. Regulations will vary with each region, which means shippers will have to research the regulations in each one.
Find the Right Truck and Trailer
Finding the right truck and tiny house trailer is also important for homeowners. Some vehicles and equipment are better suited for moving these structures than others. When it comes to picking a truck, tiny house owners will need to consider its towing capacity.
The towing capacity is the maximum weight a truck is able to pull safely. The combined weight of a tiny home and trailer resting on it must be within the limit of whatever vehicle has been chosen. If a tiny home is under 8.5 feet in width and 40 feet in length, a heavy duty pickup truck is a viable option.
However, oversized variants of small houses will require a semi truck. Tiny homeowners will have a variety of trailer typers for hauling heavy equipment to pick from when shipping their property.
This includes:
Standard flatbed trailers: Ideal for homes built on skids. These trailers are usually made of steel and wood.
Removable goosenecks (RGN): These offer better weight distribution and stability for longer tiny homes. The trailer attaches directly to the back of a semi, offering increased maneuverability.
Utility trailers: Suitable for smaller or lighter tiny homes. This type of equipment is versatile, but still large enough to carry one of these structures.
Before moving a tiny house, shippers will need to consider the dimensions of their property and find the appropriate trailer to move it.
Secure the Interior
It's crucial that everything is secured before towing a tiny house. There are many loose items that can fall and become damaged or harm the inside of these homes. Shippers should take inventory of the items inside their tiny house. After this is done, homeowners can focus their attention to what items will need to be secured or stored somewhere else.
Objects that will need securing include:
Fragile items
Loose objects
Furniture and fixtures
Appliances
Doors and windows
Special care should be taken to secure things such as::
Glass
Electronics
Ceramics
Shippers can keep any loose cargo in cardboard boxes full of packing materials. Tiny homeowners could also place items in their vehicle, rather than keeping the items boxed up inside their house.
Next, homeowners will need to move on to securing larger items like furniture and fixtures. There are a few methods that shippers can use to make sure these items don't move while the house is in transit.
This includes using:
Latches
Hooks
Cords
Adhesives
If a homeowner can't secure these parts of their tiny house, they may want to rent a U-Haul and follow their shipment to the final destination. Large objects that move during shipping can severely affect the weight balance. This is dangerous for drivers and increases the risk of accidents.
Smaller appliances like toasters or microwaves can be placed in boxes, but larger items, like refrigerators, need to be locked into place. If this can't be done, shippers can transport these items inside a U-Haul or similar rental vehicle.
Doors and windows need to be closed and either locked or latched. Cabinet doors and doors leading to rooms within the tiny house will also need to be closed. These parts of the home can be damaged if not secured properly.
Check the Weather
While the primary challenges of moving a tiny home revolve around logistics and packing, weather plays a pivotal role in the safe transport of these mobile havens.
Specific hazards that shippers should watch out for include:
Wind
Rain and wet roads
Snow and ice
Strong winds can cause a tiny home to sway while on a trailer, making it difficult for the driver to maintain control, especially on open highways or over bridges. Crosswinds, in particular, can be very dangerous. Slippery conditions caused by rain increase the risk of skidding or other road mishaps. Wet highways can also reduce visibility, which make driving more of a challenge.
Icy roads can create a considerable amount of problems as well. Slick surfaces can cause trucks to jackknife, and the added weight of snow make roofs or structures vulnerable. While transportation companies will have to deal with these challenges, shippers can help by preparing their tiny house for these weather conditions.
Precautions that homeowners can take include:
Waterproofing
Snow removal
Ensuring that a tiny home is waterproofed is vital, especially when rain is anticipated. Checking for leaks and sealing any openings or gaps will help shippers maintain the dryness of their house. If snow is expected, homeowners should us tools to remove it from the roof and around the structure before transport.
If you're transporting a mobile home instead of a tiny one, consider reading our article on this shipping service.
HEAVY HAUL & OVERSIZED
Careful Planning for Heavy Haul Shipping
Shipping heavy and oversized equipment requires careful planning and coordination. Submit your quote form today and see how our specialists carefully coordinate your shipment's arrival.
Secure Your Quote

Types of Tiny House Transport Services
Tiny house owners will need to determine what type of transport services they'll require for their property. Shippers have the choice between two options when it comes to moving their homes.
These include:
Generally, a short haul refers to a move that's between 150 and 250 miles from the starting point. These moves take about a day to complete. Short haul is often used by tiny house users that are relocating to a different part of the state they currently reside in.
Due to the small distance covered, shippers will incur fewer costs when using this option to transport their home. The risk of damage is also lower. For homeowners that want to move further away, a long haul service is needed.
Long haul refers to a shipment that travels more than 250 miles. Depending on the exact distance, moving a tiny house using this option could take multiple days. Costs for this service are much higher, as well the associated risks. To visualize the expenses between these services, we've included some data.
Short Haul vs Long Haul Tiny House Shipping Costs
| | |
| --- | --- |
| Short Haul Costs | Long Haul Costs |
| $150 – $1,000 | $1,000 – $5,000 |
Provided by Angi
As the table shows, costs for each service vary greatly. Homeowners transporting their tiny house within their state will likely incur short haul costs, while loads that travel across multiple still states will result in long haul expenses.
Added expenses can also come in the form of multiple oversized permits. Whenever state lines are crossed, regardless of distance, it becomes a possibility.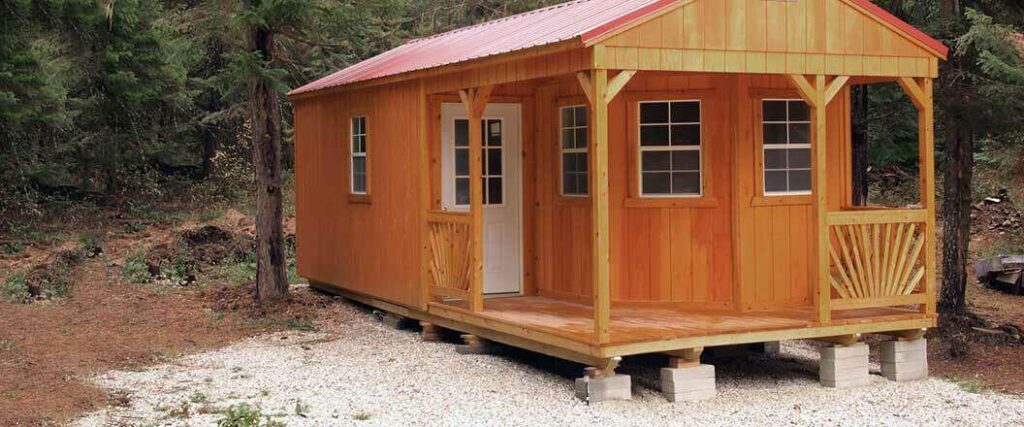 Can You Ship A Tiny House Overseas?
Yes, you can indeed ship a tiny house overseas. However, this is highly dependent on the type of home that's transported. While tiny houses are small, many of them are too large to ship safely inside a container. Fortunately, there are solutions to this specific problem.
These include:
Constructing a home inside a container
Shipping a tiny house on a roll-on/roll-off (RORO) vessel
Constructing a tiny home within a container allows the house to easily travel overseas. Another option is to use is an RORO vessel to move their structure overseas. This can be done if the tiny house is loaded on a trailer that's attached to another vehicle. The costs associated with moving these small homes to another country are very high.
Leave It To Heavy Haul and Oversized To Handle Your Tiny Home Transporting Needs
At Heavy Haul & Oversized, we have a skilled team that can move unique and oversized cargo of all varieties. Our specialized services are tailored to meet diverse transport needs, ensuring your tiny home is treated with the utmost care every mile of the way.
Here's a glimpse of what we bring to the table:
Removable Gooseneck Trailer Shipping: Ideal for larger tiny homes, offering ease of loading and unloading.
Standard Flatbed Shipping: Perfect for standard-sized tiny homes, ensuring a secure and smooth ride.
Lowboy Trailer Shipping: Designed for those larger than average units, providing ground clearance and stability.
You can also schedule a consulting session with one of our heavy haul transport experts. They'll give you useful information that will make moving your tiny home much easier. Get started today by filling out your quote or contacting our team at (866) 902-2713.
HEAVY HAUL & OVERSIZED
Quick Quotes for Your Heavy Haul Shipping Needs
Time and safety are crucial in shipping your heavy and oversized equipment. Fill out our quick quote form to get the right advice you need in no time!
Get Your Quote